Marked Tree cruises to win in weather shortened game
Thursday, December 6, 2018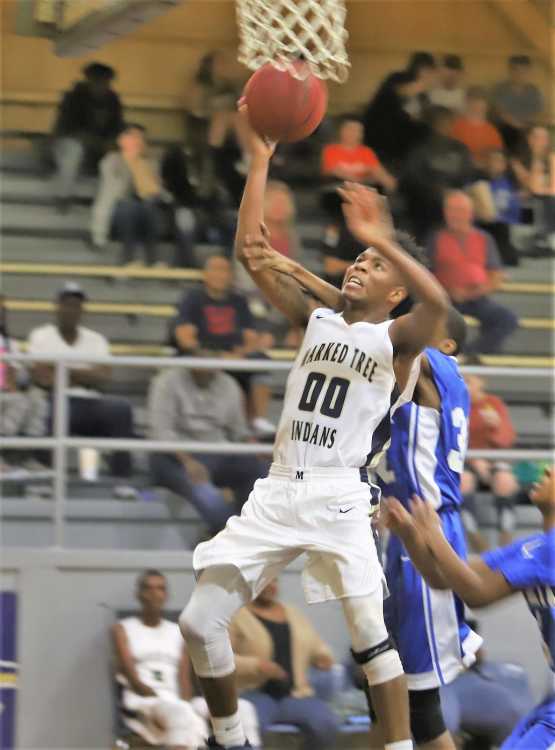 Marked Tree beat KIPP-Delta 68-26 this past Friday in a game that was called with 1:06 left in the third quarter after hard rains caused a leak in the roof making part of the gym floor wet and slippery.
Israel Malone got Marked Tree on the board first with a tip in basket before the Blue Hornets had a stick back basket to tie the game at two. Malone hit two free throws and a jumper in the lane to make it 7-2 Indians. KIPP-Delta scored inside, Brennon Honeycutt scored off the fast break, the Blue Hornets hit a jumper before Malone slammed down a two-handed dunk to make the score 10-6 Marked Tree with 2:01 left. Honeycutt and Trayvius Brown scored back to back baskets off the transition, KIPP-Delta canned three-ball as Jack Brown hit two free throws and Trayvius Brown drilled a three-pointer at the buzzer to make it 19-9 Indians at the end of one.
Honeycutt hit two free throws and scored inside before Malone went coast to coast and pulled up for a jumper to push the Indians' lead to 25-9. The Blue Hornets scored inside only to see Marked Tree get a three-pointer from Honeycutt, an inside basket from AJ Johnson, a steal and layup from Honeycutt and an inside basket from Malone to make the score 34-11 Indians with 2:23 left. Johnson got inside for another Marked Tree score, Trayvius Brown scored off the fast break before KIPP-Delta canned a three-pointer to make it 38-17 Indians. Johnson scored in the paint for Marked Tree as the Blue Hornets hit a baseline jumper making the score 40-19 Indians at the half.
Full game article in December 6 edition of the PCDT!