Warriors fall in semi-finals of Gerald Jennings Tournament
Thursday, December 13, 2018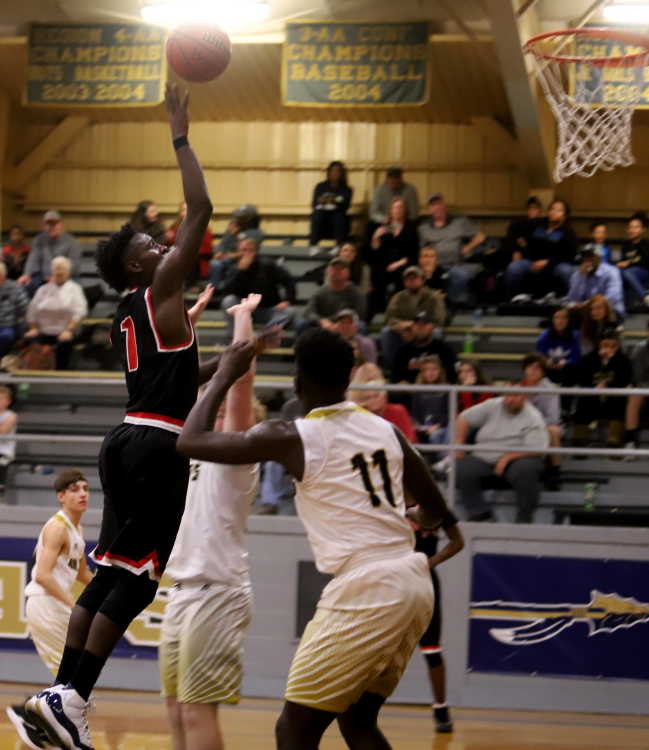 After being tied at 45 after three quarters of play, EPC was outscored 13-3 over the first half of the fourth quarter and could never catch up as they fell 64-60 to Trumann in the semi-finals of the Gerald Jennings Tournament last Thursday in Marked Tree.
MJ Barnes put Trumann on the board first with two free throws before EPC got back to back baskets from Jamario Burris and TJ Bush to make it 4-2 Warriors. Aaron Phelan canned a three-pointer for the Wildcats only to see Burris get two stick back baskets for EPC making it 8-5 Warriors with 3:52 left. Trumann got a three-pointer and a basket inside from Mario Burks to take a 10-8 lead as Preston Rains scored inside for the Warriors to tie the game at 10. Barnes hit a jumper in the lane, Burks hit two free throws before Barnes hit another jumper in the lane giving Trumann a 16-10 lead before Rayshon Gates drilled a three-ball for EPC to make it 16-13. Jonah Hanynie scored inside for the Wildcat late to make it 18-15 Wildcats after one.
Tysean Garrett scored the first six points of the second quarter to give EPC a 19-18 lead as Barnes hit a runner for Trumann to make it 20-19. The Warriors scored the next nine points as Jonathan Gilmore hit two free throws, Burris scored inside, Gilmore hit two more free throws as Burris canned a three-pointer to give EPC a 28-20 lead with 3:34 left. Dedrick Coleman hit one of two free throws and scored inside for Trumann to cut the lead to 28-23 before the Warriors got a basket inside from Rains and three-pointer from Burris making it 33-23 EPC. Zach Buchanan scored inside for Trumann, Rains hit one of two free throws for EPC as Seth Smith scored inside for the Wildcats making the halftime score 34-27 EPC.
Complete game article in December 13 PCDT!