Lady Hornets lose to Nettleton in NEA Invitational
Friday, December 28, 2018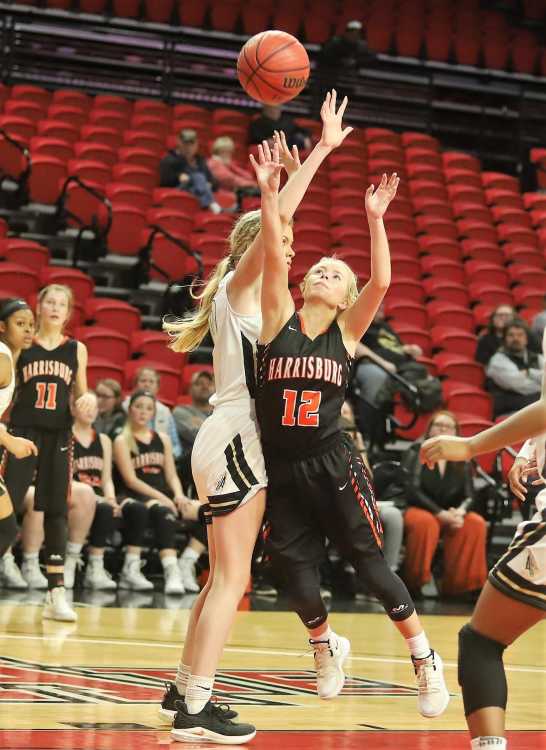 In a game that most thought thought was a gross match-up, Harrisburg lost to Nettleton 78-13 in the girls Division III bracket this past Friday in the NEA Invitational Tournament being played at First National Bank Arena in Jonesboro.
The first quarter was all Nettleton as the Lady Raiders reeled off the first 13 points to take a 13-0 lead with 3:42 left. The Lady Raiders added nine more points over the next two minutes to push their lead to 22-0 with 1:33 left in the quarter. Nettleton added 11 more points to make the score 33-0 Lady Raiders at the end of one.
Gretchen Morgan got Harrisburg on the board with a three-pointer only to see Nettleton score the next seven points to make it 40-3 Lady Raiders with 5:10 left. Kristin Vanaman hit a jumper in the lane for the Lady Hornets, Nettleton scored back to back baskets before Cassie Armstrong went coast to coast for a Harrisburg layup to make the score 44-7 Lady Raiders. Nettleton scored back to back baskets before the Lady Hornets got one of two free throws each from Wixson and Armstrong to make it 48-9. The Lady Raiders ended the quarter on a 9-0 run to make it 55-9 Nettleton at the half.
Complete story in December 27 PCDT!