Marked Tree suffers first loss in NEA Invitational Tournament
Thursday, January 3, 2019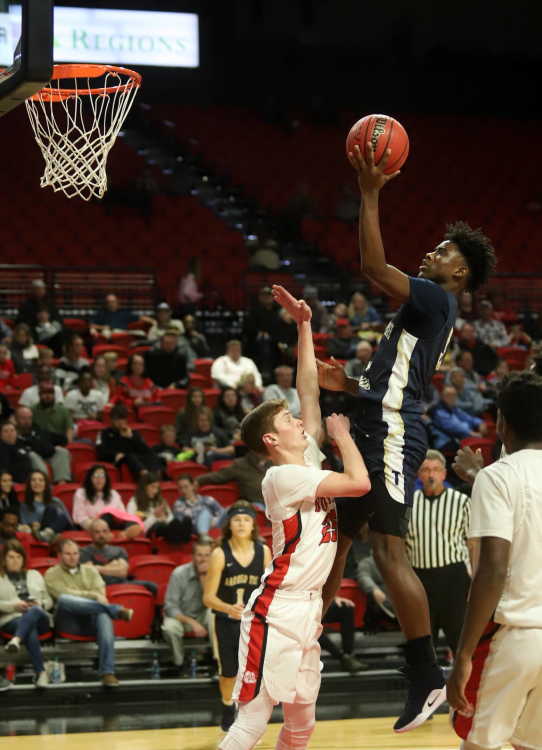 Marked Tree suffered their first loss of the season as they fell to Tuckerman 77-73 in the semi-finals of the Division II boys' bracket of the NEA Invitational Tournament last Thursday in Jonesboro.
Tuckerman drilled a three-ball to take an early 3-0 lead only to see Marked Tree get a steal and layup from Trayvius Brown and a three-pointer from Jack Brown to make it 5-3 Indians. The Bulldogs hit another three-ball as Marked Tree got another three-ball from Jack Brown and a basket off the fast break from Israel Malone to make the score 10-6 Indians with 4:29 left. Tuckerman scored the next seven points to go up 13-10 Bulldogs before Malone scored inside for the Indians making it 13-12. Tuckerman hit back to back three-pointers to push their lead to 19-12 before Trayvius Brown hit a jumper in the lane for Marked Tree to make the score 19-14 Bulldogs. Tuckerman hit a three-ball and a jumper to take a 24-14 lead after one.
The Bulldogs hit a three-pointer to open the second quarter as Eli McCrary answered with a three-pointer for Marked Tree to make it 27-17 Tuckerman. The Bulldogs scored inside, Trayvius Brown hit a jumper as Tuckerman scored inside again making it 31-19 Bulldogs. Marked Tree went on a 15-0 over the next four minutes as Malone hit two free throws, AJ Johnson had a stick back basket, Jack Brown canned a three-pointer before Malone went coast to coast for a layup to make the score 31-28 Tuckerman. Jack Brown ended the run with back to back three pointers to give the Indians a 34-31 lead with 2:14 left. The Bulldogs hit a jumper in the lane late making it 34-33 Marked Tree at the half.
Complete game article in January 3 PCDT!