Lady Hornets ousted in Kell Classic opening round
Thursday, January 10, 2019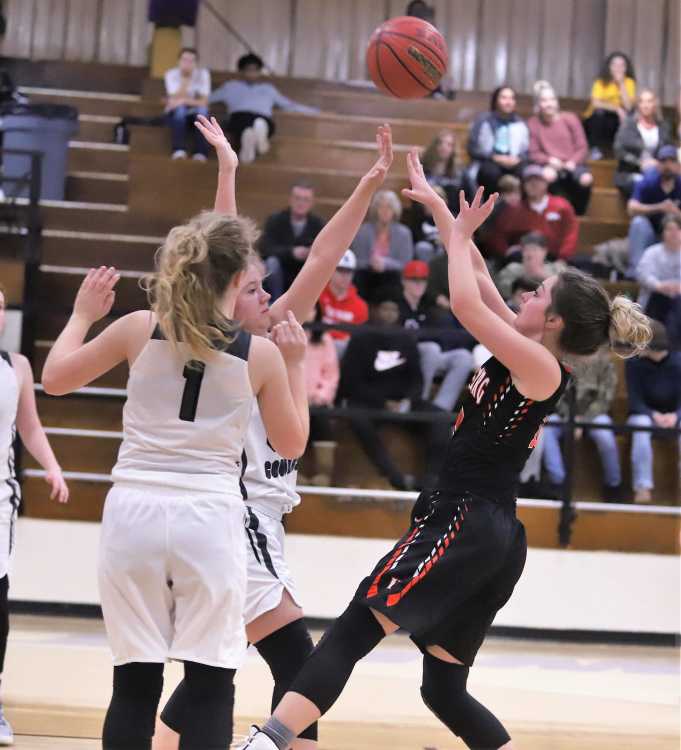 The Lady Hornets slow start but them in a hole they couldn't climb out out of as Izard County Consolidated (ICC) posted a 62-36 win over Harrisburg this past Saturday in the opening round of George Kell Hall of Fame Classic in Swifton.
ICC opened the game with a 15-0 run before Kristin Vanaman and Cassie Armstrong each hit two free throws for Harrisburg to make the score 15-4 Lady Cougars with 3:34 left. ICC scored the next six points as Armstrong went coast to coast for a Harrisburg layup to make the score 21-6 Lady Cougars at the end of one.
The Lady Cougars pushed their lead to 25-6 early in the second quarter before Vanaman hit a jumper in the lane to make it 25-8 ICC. The Lady Cougars hit a jumper as Armstrong hit a three-pointer from the top of the key and added two free throws to make the score 27-13 ICC with 3:56 left. The Lady Cougars scored the next six points to push the lead to 33-13 before Harrisburg got a stick back from Gretchen Morgan, one of two free throws from Lessie Dowty and a fast break layup from Morgan to make it 33-18 ICC. The Lady Cougars added a basket inside to take a 35-18 lead to the half.
Complete game article in January 10 PCDT!