Wildcats fall to Rivercrest in Kell Classic semi-finals
Thursday, January 17, 2019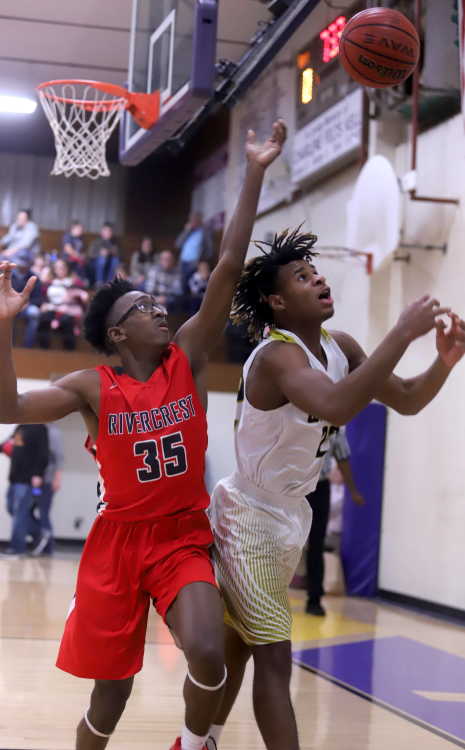 Trumann couldn't hold off Rivercrest in the second half, especially with the loss of Ben Turner in the second quarter, as the Colts ousted the Wildcats with a 59-52 win in the George Kell Hall of Fame Classic last Thursday in Swifton.
Turner hit a baseline jumper and two free throws around a basket inside from the Colts to give the Wildcats a 4-2 lead early in the game. Rivercrest scored off the fast break to tie the game at 4 before Aaron Phelan canned a three-pointer for Trumann and MJ Barnes scored off the break to give the Wildcats a 9-4 lead with 4:04 left. The Colts hit one of two free throws, Zach Buchanan got inside for a score before Rivercrest scored back to back baskets to make it 11-9 Wildcats. Lewis Milton, III hit a jumper in the lane for Trumann, the Colts made back to back baskets only to see Turner score inside for the Wildcats to make the score 15-13 Trumann. Rivercrest scored inside, Mario Burks canned a three-pointer for the Wildcats, the Colts stuck back an offensive rebound, Burks hit a jumper for Trumann as Rivercrest netted a three-pointer late to make the score 20-20 after one.
Buchanan scored inside for Trumann only to see the Colts scored back to back baskets to take a 24-22 lead. MJ Barnes scored in the paint as Buchanan converted an old-school three-point play to give Trumann a 29-24 lead with 3:42 left. Rivercrest got a stick back basket, Milton scored inside for Trumann as the Colts got a steal and layup to make it 31-28 Wildcats. Phelan canned a three-ball for Trumann, Rivercrest hit a jumper, Buchanan scored down low before the Colts hit a jumper making the score 36-32 at the half.
Full game article in January 17 PCDT on newsstands now!