Barnes' late shot gives Junior Lady Wildcats win over Manila
Thursday, January 24, 2019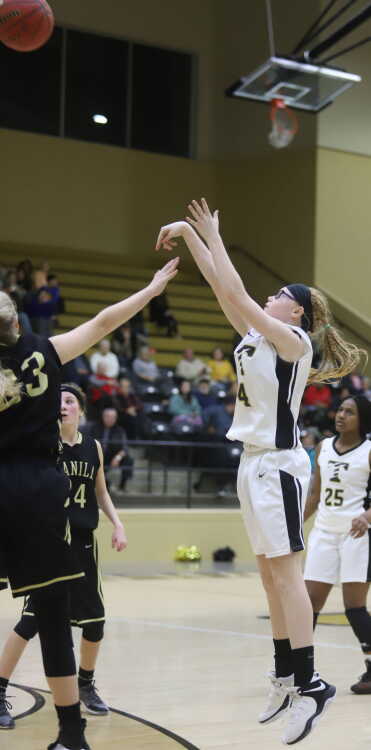 Tonia Barnes hit a jumper with two seconds left in the game to send Trumann to a 34-32 win over Manila this past Monday at Wildcat Gym.
The first quarter was a slow affair as neither team had much luck finding the basket. Nygeria Jones got Trumann on the board first with two free throws before Tonia Barnes scored inside to make it 4-0 Junior Lady Wildcats with 2:36 left. Manila got back to back steals and layups, the latter with 17 seconds left to make the score 4-4 at the end of one.
Nygeira Jones and Kayde Jones opened the second quarter with back to back baskets to make it 8-4 Trumann before the Junior Lady Lions scored inside and hit one of two free throws to make the score 8-7 Junior Lady Wildcats with 3:44 left. Jaidyn Chappell scored inside for Trumann only to see Manila get a jumper, a three-pointer and two free throws to go up 14-10 with under a minute left. Kayde Jones heaved a shot right around half-court at the buzzer as the ball found its way in the goal to make it 14-13 Junior Lady Lions at the half.
Pick up a copy of the January 24 PCDT for full game story!