Harrisburg falls at home to Tuckerman
Thursday, January 31, 2019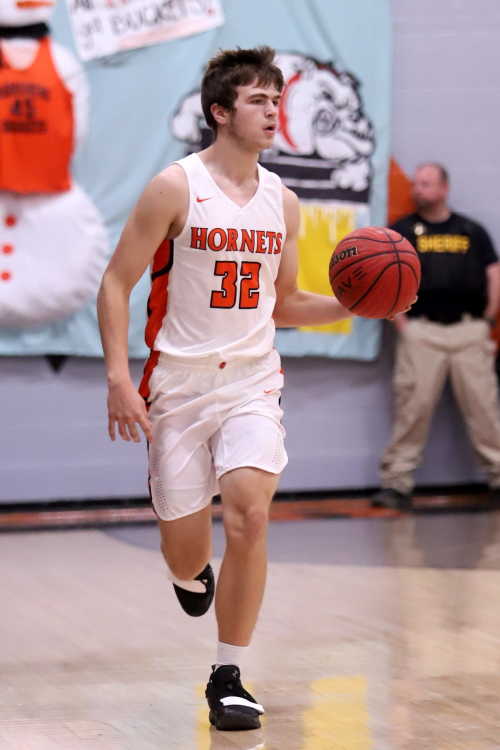 Harrisburg couldnít find enough answers for all of Tuckermanís scoring weapons as the Hornets lost 85-40 to the Bulldogs this last Thursday on Homecoming night at the Hornetsí Nest.
Tuckerman got on the board first with a three-pointer as Presley Witt answered with a running jumper to make it 3-2 Bulldogs. Tuckerman scored the next seven points to go up 10-2 before Caleb Neal hit two free throws for the Hornets making it 10-4. The Bulldogs reeled off the next 10 points to go up 21-4 as Jamason King canned a three-pointer for the Hornets to make the score 21-7 Tuckerman with 2:46 left. The Bulldogs netted a three-pointer, Witt drilled a three-pointer for Harrisburg only to see Tuckerman hit back to back three-balls making it 30-10. The Bulldogs got a steal and layup as Ray Micheal Jones scored inside to make the score 32-12 at the end of one.
The Bulldogs drilled a three-pointer to open the second quarter before Harrisburg got a jumper from King and back to back three-pointers from Neal and King to make it 35-20 Tuckerman. The Bulldogs drained another three-pointer, Jones had a stick back for the Hornets as King hit another three-ball for Harrisburg making it 38-25 with 2:33 left. Tuckerman hit one of two free throws, King hit a runner for the Hornets, the Bulldogs scored inside before Kingís three-pointer made it 41-30 Tuckerman. The Bulldogs hit two of four free throws on back to back trips to the line late to make the score 43-30 Tuckerman at the half.
Full game story in January 31 PCDT!