Lady Wildcats fall 65-31 to Hoxie
Thursday, February 7, 2019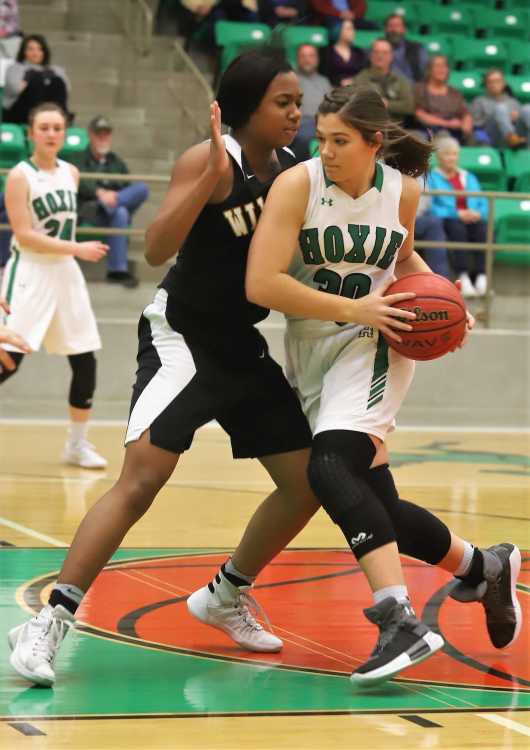 Trumann had no answer for Hoxie this past Friday as the Lady Mustangs led from start to finish in a 65-31 3A-3 conference win at Hoxie.
The Lady Mustangs jumped out a 4-0 lead before Hannah McClaughlin hit a baseline jumper for Trumann making it 4-2 Hoxie. The Junior Lady Mustangs had a stick back as Mallory Hartley scored inside to make the score 6-4 Lady Mustangs. Hoxie scored back to back baskets, Mycha Wilson scored inside for Trumann as Hoxie hit two free throws making it 12-6 Lady Mustangs with 4:26 left. Trumann got one of two free throws from Hartley and a baseline jumper from Kayla Spence to cut the lead to 12-9 before Hoxie hit a jumper to make it 14-9 Lady Mustangs. Hoxie hit three of four free throws in the last minute of the quarter to take a 17-9 lead at the end of one.
Trumann got a jumper in the lane from Wilson to open the second quarter, the Lady Mustangs answered with a jumper as Hartley scored inside for the Lady Wildcats making it 19-13 Hoxie. The Lady Mustangs canned a three-ball, Spence hit a jumper for Trumann only to see Hoxie drill another three-ball to make it 25-15 Lady Mustangs. Tay Smith hit one of two free throws for the Lady Wildcats, Hoxie hit one of two free throws as Hartley hit two free throws for Trumann to make it 26-18 Lady Mustangs with 3:25 left. Hoxie reeled off the next points making it 35-18 as Spence hit a jumper late for Trumann to make the score 35-20 Lady Mustangs at the half.
Pick up a copy of the February 7 PCDT for full game story!