Indians get hard fought win over Bay
Thursday, February 7, 2019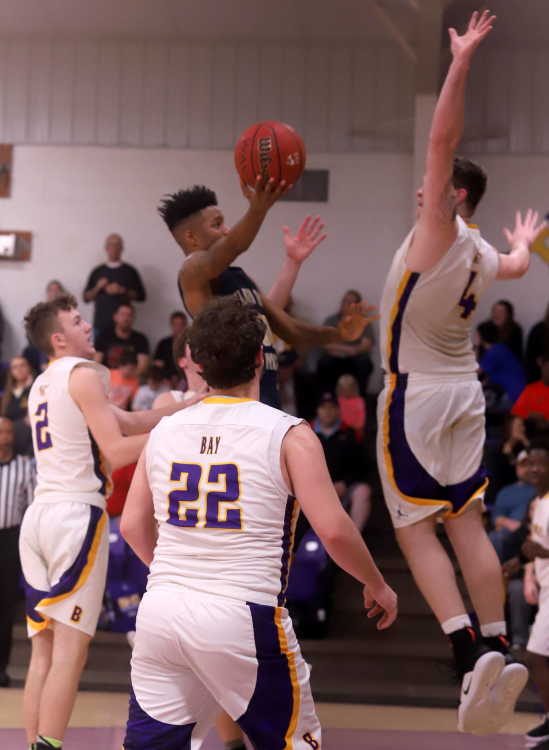 Marked Tree scored six of the last seven points on the night to come away from Bay with a 49-42 win in high school boys' basketball action.
Israel Malone gave Marked Tree an early 3-0 lead with one of two free throws and a basket inside before Bay got back to back three-pointers from Layne Austin and Dax Gibson making it 6-3 Yellowjackets. The Indians scored the next 10 points as Jack Brown canned a three-pointer, scored inside and converted an old-school three-point play as Eli McCrary scored off the fast break to make it 13-6 Marked Tree with 2:34 left. Gibson hit a jumper in the lane for Bay, Malone scored inside for the Indians as Gibson drilled a three-ball for Yellowjackets to make it 15-11 Marked Tree after one.
Austin canned a three-pointer for Bay to open the second quarter as Brennon Honeycutt hit a jumper for the Indians to make the score 17-14 Marked Tree. Malone stuck back an offensive rebound for the Indians, Gibson scored from the paint for Bay, Trayvius Brown got inside for a Marked Tree before Jay Jones canned a three-ball for the 'Jackets to make it 21-19 Indians with 1:58 left. Malone had a one-handed slam dunk for Marked Tree only to see Slade Grove get back to back stick back baskets to make it 23-23 at the half.
Full game article in February 7 edition of the PCDT!