Junior Wildcats ousted in district tournament
Thursday, February 14, 2019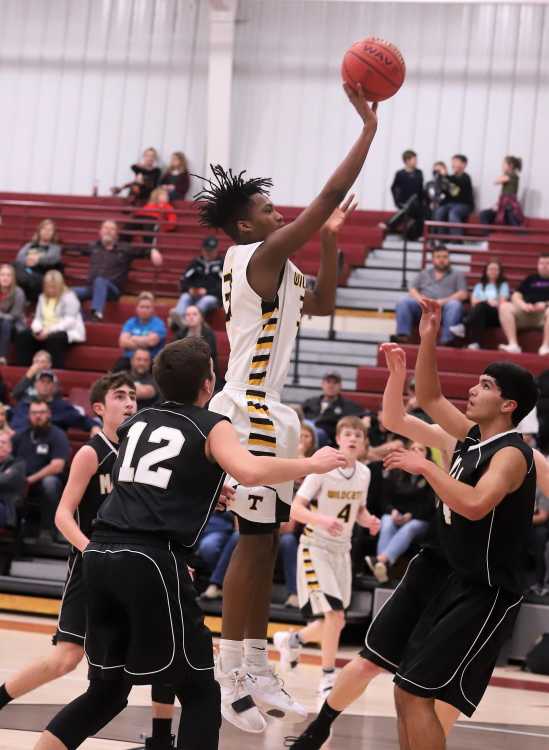 A last second shot at the buzzer ended the Junior Wildcats season last Wednesday as they fell to Manila 41-40 in the 3A-3 district tournament in Piggott.
Manila took the early 3-0 lead with a three-pointer before Azani Smith scored back to back baskets for Trumann to make it 4-3 Junior Wildcats. The Junior Lions hit a jumper to go up 5-4 only to see Parks McNair score inside for Trumann to make it 6-5 Junior Wildcats with 2:43 left. Manila scored the next seven points to go up 12-6 before Smith hit one of two free throws, hit a jumper in the lane and got a steal and layup to make it 12-11 Junior Lions. Manila canned a three-ball as Smith scored inside for the Junior Wildcats to make the score 15-13 Junior Lions at the end of one.
A basket inside by Manila made it 17-13 before the Junior Wildcats got a three-pointer from Trent Creekmore and a basket inside from Rian King to give Trumann an 18-17 lead. Manila hit one of two free throws, Smith hit a jumper in the lane for the Junior Wildcats before the Junior Lions scored the next 10 points to go up 28-22 with one minute left in the half. King got inside for a Truman basket to make the halftime score 28-22 Manila.
Full game story in February 14 edition of the PCDT!