Indians roll over KIPP Delta in tournament opener
Thursday, February 14, 2019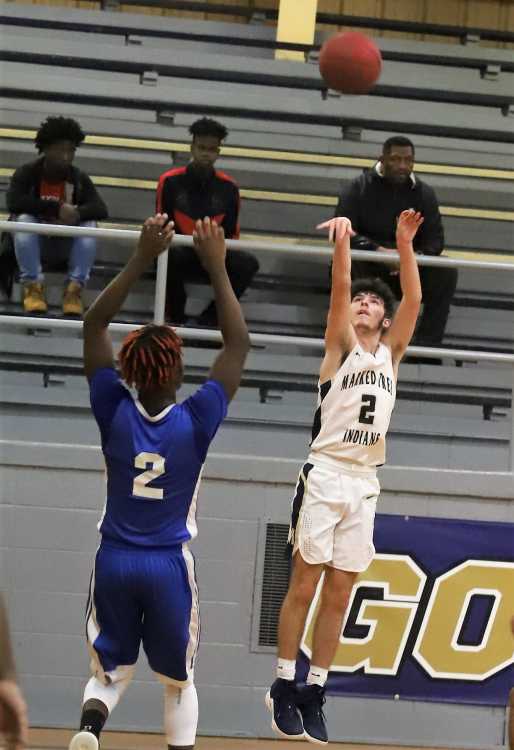 Marked Tree got three straight three-pointers from Trayvius Brown to open the game building a 9-0 lead and ever looked back as Marked Tree beat KIPP Delta 78-34 in the opening round of the 2A-6 senior boys' district tournament this past Monday in Marked Tree.
After Trayvius Brown gave the Indians the 9-0 lead, the Thunder scored inside to make it 9-2. Jack Brown converted an old-school three-point play for Marked Tree as KIPP Delta scored inside again to make it 9-4 Indians with 3:54 left. Marked Tree went on 14-0 run the remainder of the quarter as Trayvius Brown knocked down another three-ball, Jack Brown got a steal and layup before Israel Malone scored inside making it 19-4 Indians. Jack Brown got a basket in the paint, Brennon Honeycutt hit two free throws and Jack Brown converted another old-school three-point play to make it 26-4 Marked Tree at the end of one.
Jack Brown pushed the Marked Tree lead to 28-4 with a stick back basket early in the second quarter before the Thunder put back an offensive rebound to make it 28-6. Eli McCrary hit one of two free throws for the Indians, KIPP Delta canned a three-pointer before Marked Tree got a three-ball and fast break layup from Honeycutt and a jumper in the lane from Malone making it 36-9 Indian with 3:36 left. The Thunder scored a basket inside, McCrary drilled a three-pointer for Marked Tree as Malone scored inside before KIPP Delta canned a three-pointer making the score 41-14 Indians. Honeycutt netted back to back three-pointers for Marked Tree, the Thunder scored inside as Honeycutt drilled a three-pointer right before the buzzer making it 50-16 Indians at the half.
Full game story in February 14 PCDT on newsstands now!