Shankle talks EA Sports Management
Thursday, February 28, 2019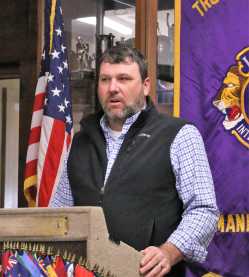 Scott Shankle, owner of EA Sports Management, LCC, was the guest speaker at the Trumann Lions Club's weekly meeting last Wednesday at the Old Community House in Trumann.
Shankle spoke a year ago as the city Sports Director and last week was speaking about his business. "Let me squash the rumor that the sports program was cut from the city," Shankle said.
Shankle said he worked with the city to try and save some money and not have to deal with franchise revenue not coming it like it used to. After meeting with Mayor Barbara Lewallen and revising the contract three or four times, Shankles' new company was hired to run the Trumann sports programs.
On Jan. 30, the contract was signed with Shankle resigned from the city. "I'll still run the complex like I always have done. I just won't be a city employee in doing so," Shankle said. Shankle will run the tournaments, the youth programs, and any adult tournaments that are played at the complex. "The city will maintain the maintenance of the property since it owns the land, but the day-to-day operations will be run by my company," Shankle said.
Shankle will continue to mow and maintain the fields due the amount of work he's put into them. "We can have tournaments on rainy weekends where most complexes can't due to the condition our fields are kept in. I wanted to continue the upkeep so they would stay that way," Shankle said.
Shankle told the group that sign-ups are ongoing with around 160 kids signed up, down a little from 200 that signed up last year. "It's been like this every year.
A lot wait until the last week to sign up," Shankle said. "We've had a few kids who couldn't afford the sign-up fee, and I had individuals step up and take care of those kids."
Tournaments will start in March, and Shankle told the club that he has several already lined up through the summer and a few already for the fall. "We want to wait and see what other parks are doing so we don't schedule on same weekends," Shankle said. Southwest Tennessee Community College has also leased the complex for three tournaments that they will use as a recruiting tool. "They are starting to look at some of the players in our area," Shankle said.
"We had a good year last year and hope to have a better year this year," Shankle said. "Come out and catch a game and see what all is going on at the complex."