Florence Mae Tolbert
Thursday, March 14, 2019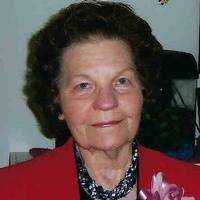 SCIENCE HILL - Mrs. Florence Mae Tolbert was born April 30, 1928, daughter of the late Jessie and Luvie Presley. Florence died Feb. 18, 2019, at Cumberland Nursing and Rehab in Somerset, Ky., at the age of 90.
Florence lived in Trumann and moved to Science Hill, Ky., in 2008 to be with her nephew, Stephen Clayton, whom she had raised as her son. She was a former member of Melton Ave Church of Christ and current member of Science Hill Church of Christ.
She was preceded in death by her husband, D.G. Tolbert; four brothers, J.C., Willie, Elbert, and A.W. Presley; one sister, Frances Presley; and her parents.
Survivors include Stephen Clayton and his wife Glynis, their daughter Kayla (Michael) Simpson and granddaughter Braelyn of Science Hill, Ky.; three brothers, Raymond Presley of Southaven, Miss., Harold Presley of Cherokee Village, Ark., and Marvin Presley of Memphis, Tenn.; two sisters, Hazel Smith of Trumann and Marie Harrison of Cherokee Village, Ark.; and many beloved nieces, nephews and friends.
Visitation was Feb. 23 at Thompson Funeral Home in Trumann. A Celebration of Life followed with Nolan Glover officiating. A private burial was held in Jonesboro Memorial Park Cemetery in Jonesboro.
An online guest book can be signed at www.thompsonfuneralhome.net.