Mayor Kimble speaks to Harrisburg Rotary Club
Monday, April 15, 2019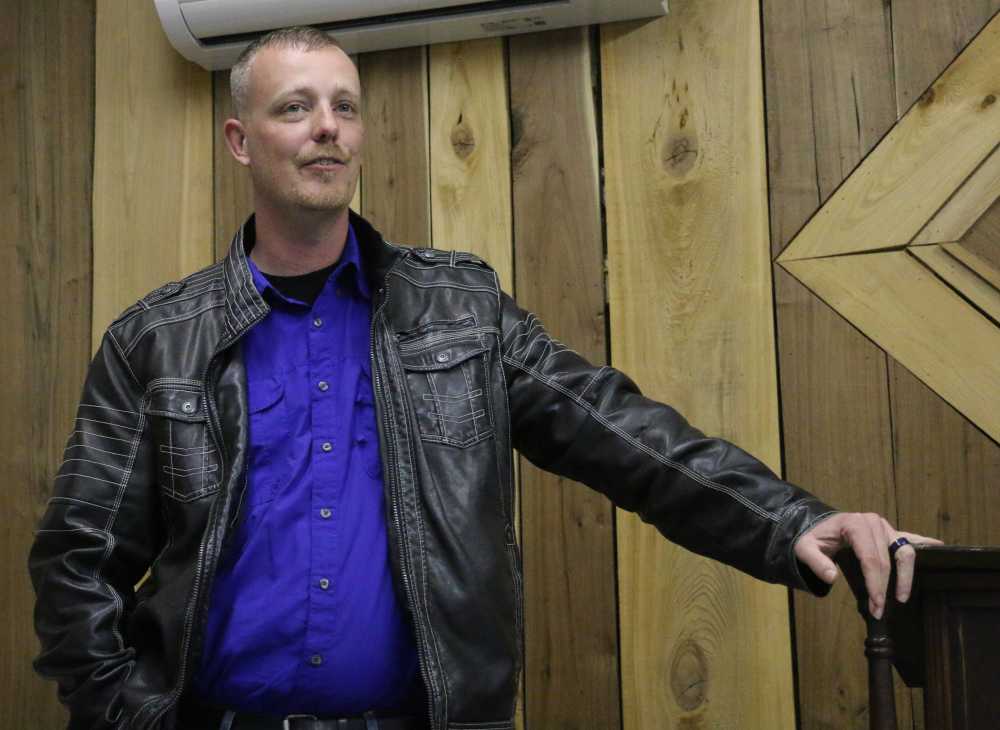 Harrisburg Mayor Justin Kimble was the guest speaker last Thursday at the Harrisburg Rotary Club's weekly meeting at Mel's Steakhouse in Harrisburg.
Kimble was born and raised in Harrisburg and has lived there all his life. Kimble was in the agricultural business for many years before getting into law enforcement. "I have no idea how I got into law enforcement, but I loved it. I love helping people. That was the driving force for me," Kimble said. Kimble then decided to run for mayor and was elected to that position. "I want to thank those who voted for me and have supported me," Kimble said.
Kimble is a Lions Club member as well as a member of Moose International out of Moosheart, Ill., with his actual Moose chapter home being in Mountain Home. Kimble is also a member of Moose Riders motorcycle club who gives teddy bears and toys to needy children. "I live giving back," Kimble said.
His goals as mayor include cutting spending for the city, which he said has been a challenge. He also wants to work with the veterans of Harrisburg, saying, "They need to be recognized for who they were." Kimble also helped to make the city a Purple Heart City, which puts the city on the National Registry in Washington, D.C. "It could attract some visitors to the city who follow the Purple Heart Trail to the various cities," Kimble said. Kimble also told the group that he has had some purple heart parking signs put around the courthouse.
The Census is coming up, and Kimble said he has been working on that with the Census people. The Census will be in 2020. The Census people want a committee established in the smaller communities, and Kimble said he would get to work on forming that committee.
Festival on the Ridge has been a hot topic for Kimble, and he told the group that he is moving the festival back to the court square where its roots are. "We are going to move things around to try and make more space for visitors," Kimble said. Kimble said he wants to have an all Christian lineup of music. Building 429 will perform, as will We Are Vessel. The festival is set for June 8 with 3,000 to 4,000 projected for the event. Trinity Baptist Association will set up their trailer, there will be a hot dog eating contest, a horseshoe tournament, and he hopes to have the BMX bike crew come back.
Kimble said the community building is still in the works as they are waiting on a reply for a USDA grant before they can start. Kimble said he hopes to be breaking ground soon. "The recent government shutdown has put so many things behind," Kimble said.
Kimble said the city wide cleanup is set for April 18-21 with a combined civic clubs cleanup set for April 20. Kimble said some properties in town are in need of being addressed.