Harrisburg Rotary hears from city librarian
Monday, April 22, 2019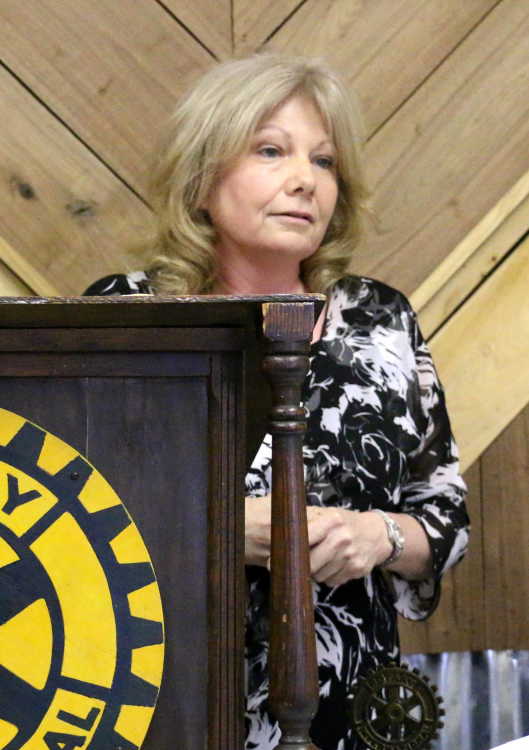 Angie Lacy, Harrisburg City Librarian, was the guest speaker at the Harrisburg Rotary Club's weekly meeting last Wednesday at Mel's Steakhouse in Harrisburg.
"Thank you for having me today," Lacy said in opening. "I hope I can share something about the library today that's a resource for everybody," Lacy added. Lacy has been with the Harrisburg Library for 28 years.
Lacy told the group that so much has changed with the library with the biggest being the computers. "We can help people in so many more ways now with them," Lacy said. E-books, computer classes and genealogy research are also a few things that Lacy mentioned. "We offer the ancestry.com which is paid for by the library," Lacy added.
Lacy told the group that 17,000 visited the library in 2018 with countless more using the library's Wi-fi sitting in the parking lot. "I know first hand how important the Wi-fi is as both of my boys used it while attending college to get stuff completed," Lacy said. Lacy said the library also had almost 17,000 materials checked out at the library in 2018. "We are a small town library with a lot of benefits," Lacy added.
The library has 37 programs scheduled for the summer. A magic show, crafts, stories, learn how to crochet, live animals and the planetarium were just a few evens Lacy mentioned. These are just summer activities as Lacy said there is an adult exercise class at the library that has been exercising for five years with 10 to 17 people showing up every Monday at 5 o'clock. The library also has a monthly book club meeting with 12 members. The books are provided through the Arkansas State Library with no cost to the members. The club reads one book a month.
Lacy said her job can very rewarding at times. "I remember a young adult who came in that couldn't read very well. I gave her a book of poetry and she brought it back a few weeks later and said she really enjoyed it. She said thank you. Just by introducing a book to her made my day," Lacy said. "The library can impact a lot of live and I'm proud to serve my city," Lacy added.
Lacy told the club that if you come in and can't find what you are looking for, let them know as they have seven other libraries in the system they can borrow from. She also said if you still can't find the item, they have ILL (Inter Library Loan) that goes out over the United States in search of your item. "We've sent items out to different states," Lacy said.
The newest project for the library is the purchase of a new scanner. Old photos and documents can be scanned and stored on thumb drive that is provided by the library. "All this is free of charge and we hope the public will share stuff with us to go on our website under a new Timeline heading," Lacy said. The items will be listed by category.
"Take advantage of this small town library and tell all your friends," Lacy said in closing.