Lady Wildcats clinch share of 3A-3 conference title
Thursday, April 25, 2019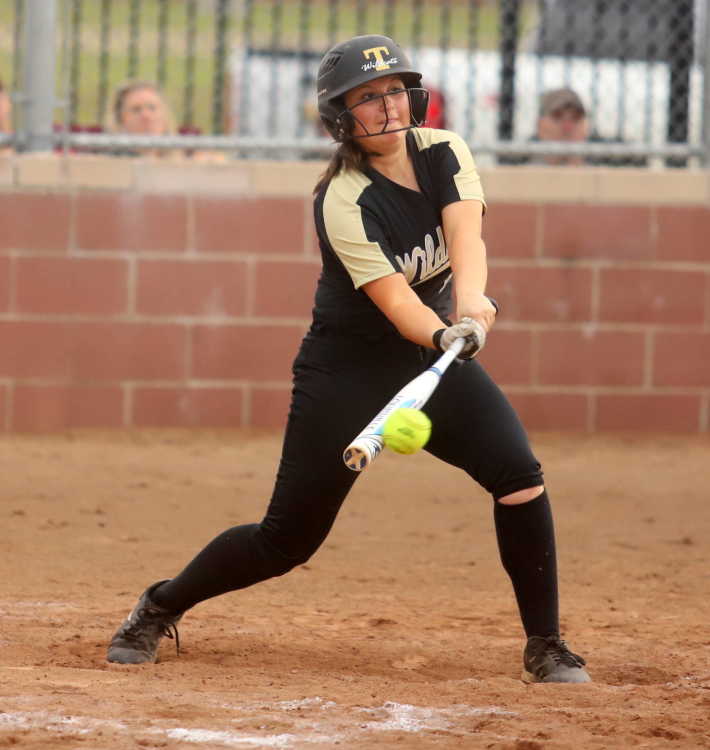 What a way for four Trumann seniors to go out in style by clinching at least a share of the 3A-3 conference title with a 14-4 win over Manila this past Wednesday in Trumann.
Manila went three up and three down in the top of the first inning as the Lady Wildcats got on the board in the bottom of the inning. Senior Sydney Callahan led off with a walk and stole second base. Karsen Overshine grounded out before senior Daly Taylor reached on an error that allowed Callahan to score making it 1-0 Trumann. Senior Mallory Hartley flew out, Mallory Mincy reached on an error before Hannah McClaughlin grounded out to end the inning. The Lady Lions used two hits and an error to plate a run in the top of the second inning to tie the game at one. Senior Maddie Roach grounded out for the first out in the bottom half as Annaleigh Penter lined out. Devin Overshine popped out to keep the score tied at one after two innings of play.
Manila went down in order in the top of the third inning as Trumann added two more runs in the bottom half. Callahan popped out before Karsen Overshine singled. Taylor singled and went to second on the throw to third. Hartley singled to score Karsen Overshine and Taylor making it 3-1 as Mincy reached on a fielder's choice that forced out at second base. McClaughlin singled with two outs before Roach struck out to end the inning. Manila took advantage of a Trumann error to score two runs in the top fourth inning to tie the game back at 3-3. The Lady Wildcats took the lead for good with four runs in the bottom half as Penter led off with a single. Devin Overshine popped out before Callahan tripled to score Penter making it 4-3 Trumann. Karsen Overshine singled to plate Callahan making it 5-3 as Taylor followed with a single. Hartley was safe on a fielder's choice to load the bases as Karsen Overshine was forced out at home on Mincy's fielder's choice. McClaughlin singled to bring in Taylor and Hartley making it 7-2 Lady Wildcats. Roach's fielder's choice forced Mincy out at third base for the third out.
Full game story in April 25 PCDT on newsstands now!