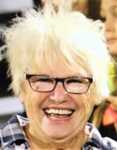 Happenings of the Trumann Senior Life Center
Fun Filled Week
Posted Friday, August 30, 2019, at 12:07 PM
Those at the Trumann Senior Citizens Center had a fun filled week of playing various game. On Monday, we played a couple of bean bag basketball games. We also celebrated National Dog Day! Happy belated dog day to Mary L., Connie C., Hollie S., Jennifer G., and Myles M. I know you all take good care of your fur babies. On Tuesday- we played dominoes, exercised and Ms. Vena worked on a new puzzle.
Wednesday- was newspaper day, arts and crafts and exercise as Thursday we played bingo at 10:30, then exercised and played a ball game. Friday we again played a ball game and did our bargain hunt.
Have a safe and happy Labor Day weekend.
Respond to this blog
Posting a comment requires free registration: