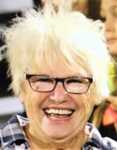 Happenings of the Trumann Senior Life Center
On The Go
Posted Thursday, February 6, 2020, at 12:00 AM
Exercise and council meeting is how we started the new month.
Red Hats trip to Jonesboro for lunch and shopping. Tuesday baseball game with Bono. Newspaper day, dominoes and bingo on Thursday. Bubble guym day and assistance with utility on Friday. Ms. Lucy will be here to help.
We will be having a big Valentine party, February 12 for 60 years and older here at 351 Campbell. It will be from 9:30 a.m. to 11:30 a.m. Music, games, food, and door prizes. Would you join us?
Have a great week-end.
Respond to this blog
Posting a comment requires free registration: