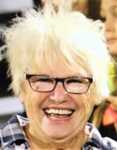 Happenings of the Trumann Senior Life Center
On The Go
Posted Friday, December 13, 2019, at 9:20 AM
Council meeting, Ms. Kathy went over the December calendar, it's going to be a busy month.
Ms. Cindy told us about her trip down Interstate 555 to Marked Tree. She had a blow-out and big trucks almost ran her off the road. Thank you to the nice young man for helping to get her home.
Monday- red hats trip to Jonesboro for lunch and Christmas shopping.
Tuesday- trip to Dollar Tree for Christmas ornaments for bingo and dirty Santa gifts.
Wednesday- news paper day and puzzle club. The winner of arts and crafts last week was Susan P. for best Christmas Tree made out of a pine cone. Better luck next year girls.
Thrusday- bingo at 10:30.
Friday- ornament bingo.
Stay warm and have a great week-end.
Respond to this blog
Posting a comment requires free registration: