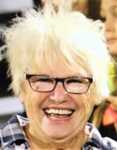 Happenings of the Trumann Senior Life Center
On The Go
Posted Thursday, March 19, 2020, at 12:00 AM
Not much going on here at the center. Ms. Cindy has been out sick. Ms. Kathy went on vacation to the Holy Land. So we have been playing points derby, dominoes and working on the puzzle table.
Weather is getting warmer, soon we can power walk outside. So ready for some sunshine!
Ball tournament at Forrest City on March 27. Some of our players have been sick, but we are going to try and make it.
Newspaper day on Wednesday and bingo on Thursday. Prayer for our city.
Have a great weekend.
Respond to this blog
Posting a comment requires free registration: