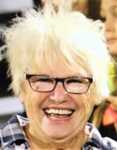 Happenings of the Trumann Senior Life Center
On The Go
Posted Thursday, January 23, 2020, at 12:00 AM
Too cold to do much of anything this week! Basketball game Monday and Dominoes.
Puzzle table, brain teasers and card games on Tuesday.
On Wednesday, arts and crafts, painting 3 blind mice in watercolor. We have a few good artists over here. Then there is me, I can roll paint on a wall.
Bingo day on Thursdays. Thanks to classic cuts for the hair cut.
On Friday, just sitting around keeping warm. Wish spring was here. Have a great week-end. Check on the elderly and bring your pets inside. Pray for Ms. Nana she is at NEA.
Respond to this blog
Posting a comment requires free registration: