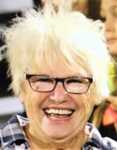 Happenings of the Trumann Senior Life Center
On The Go
Posted Thursday, September 26, 2019, at 12:00 AM
We seniors have been "on the go" for the last two weeks. Trip to Poncho's, red hat shopping trip, NEA Fair for senior day and bingo at Three Rivers at Marked Tree. We do get around.
Monday- exercise, points derby and supper club at KFC in Jonesboro with 15 seniors.
Tuesday- brain teasers, arts and crafts for fall and Wii bowling.
Wednesday- newspaper day, golden beats and dominoes.
Thursday- power walk , great weather for this. Bingo at 10:30 and cake and ice cream for all September babies.
Friday- bargain hunt and white elephant bingo. Lion's Club BBQ will be at the community house this yeay (back where it all started). Duck Festival is coming soon. Have a great week-end.
Respond to this blog
Posting a comment requires free registration: