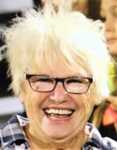 Happenings of the Trumann Senior Life Center
Red Hats have fun
Posted Thursday, October 24, 2019, at 11:28 AM
Red hats had a good time this past Friday shopping and eating lunch in Jonesboro. Monday- exercise, dominoes and puzzle table was busy.
Tuesday night, supper club pot luck which is always fun. Ball game with Bono was canceled. So we won! Wednesday- newspaper day, arts and crafts, dominoes and exercise. Thursday- Bingo, exercise and lunch. Friday- bargain hunt.
Have a great weekend and keep the good folks in Tyronza in your prayers.
Respond to this blog
Posting a comment requires free registration: